Tigh-Na-Mara is a modern home built by us, the owners. We opened as a Bed & Breakfast in May 2019 and have one downstairs bedroom with en-suite which provides comfortable and modern B & B facilities. The views from the bedroom window are Skye to a tee: The Quiraing and Staffin Bay.
Sorry but we are closed for the forseeable future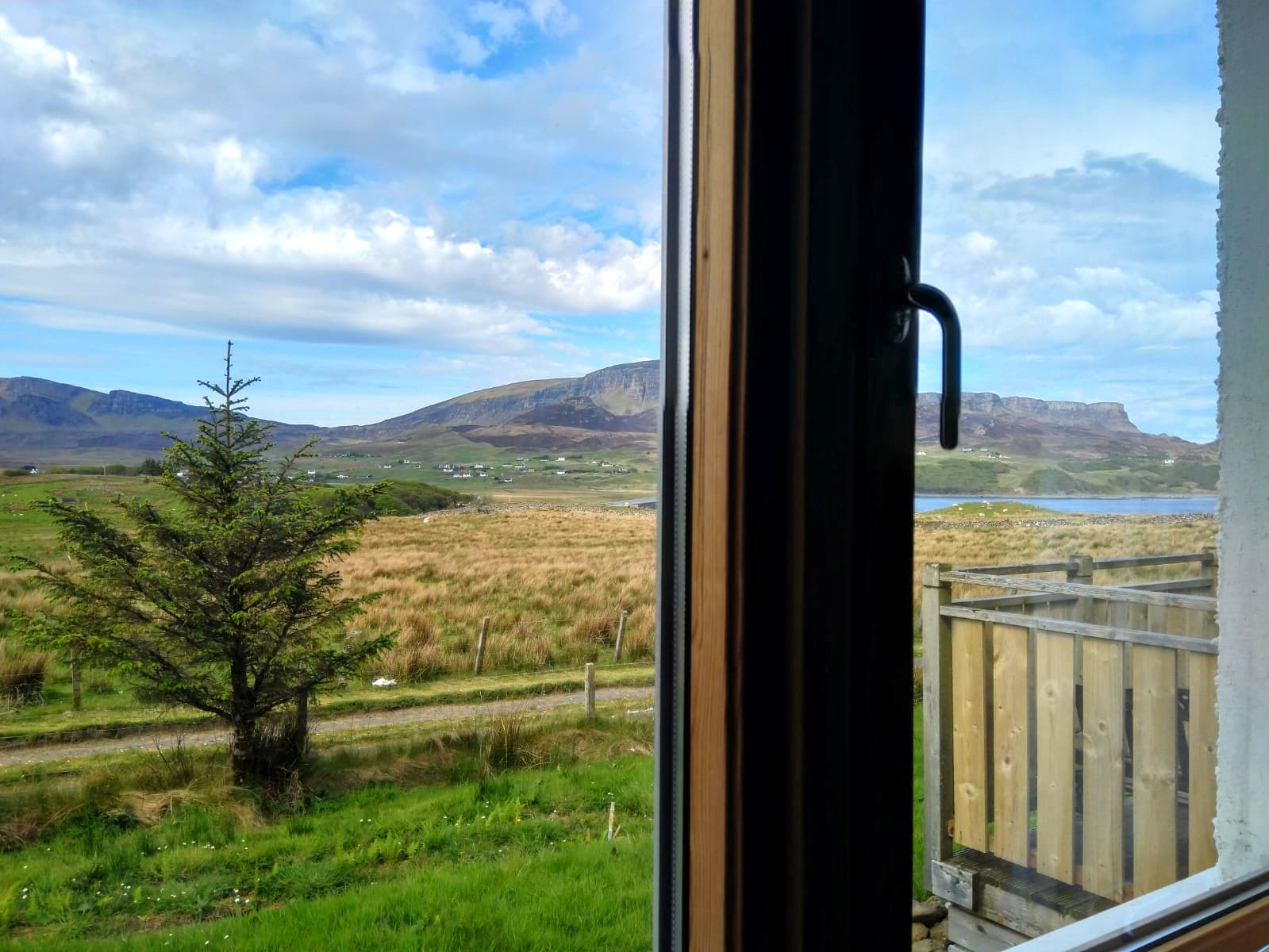 Tigh-Na-Mara's B&B room is a lovely size, has a shower en-suite, access to Wi-Fi, tea/coffee making facilities, and includes a seating area where guests can enjoy breakfast.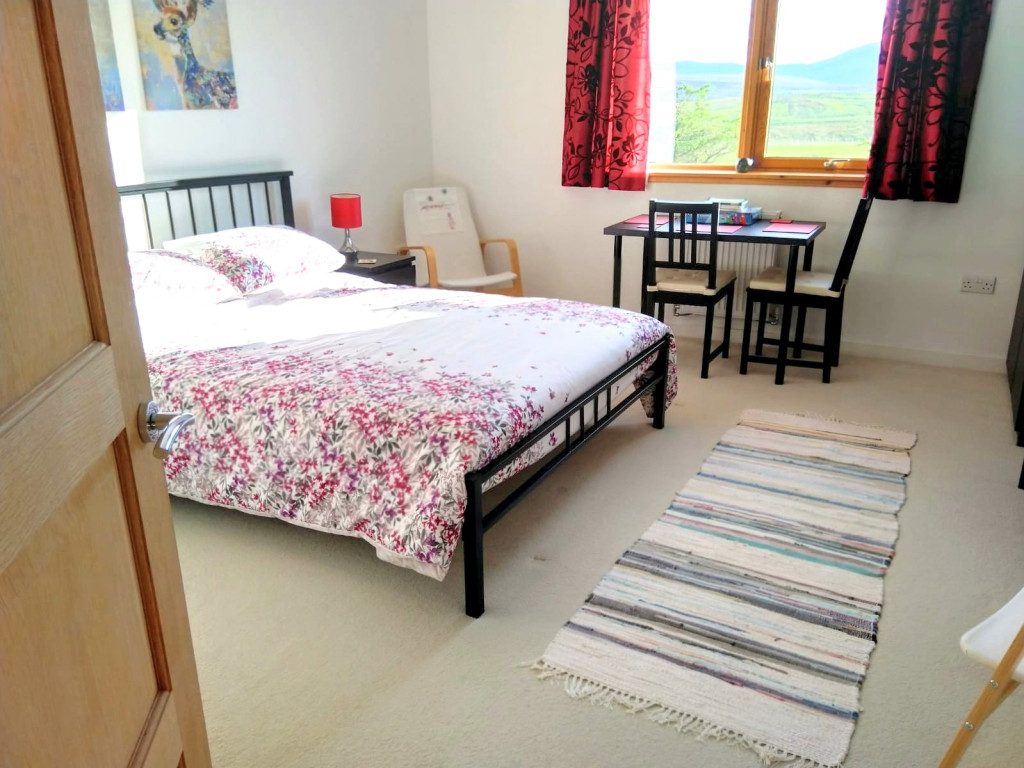 We provide a continental breakfast for you to enjoy in your room at your convenience.
We've had wonderful reviews since opening and are very grateful to everyone who has kindly written a review. We aim to provide a relaxing B&B and love to hear you have loved your stay and would return.
Book now – dates available for Spring and Summer 2020!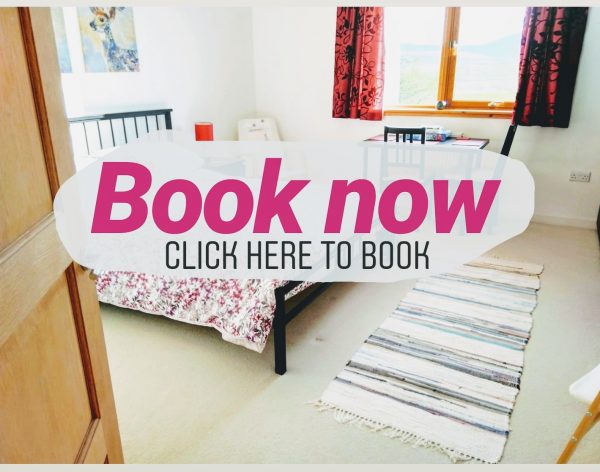 P.S. Our guests think we're 5* …
From Google reviews

We were there in the middle of August, the first time to visit the Isle of Skye, and we could not have hoped for a better place to stay. Patricia and Gordon made us feel so welcomed and attended to, so considerate and helpful and with a very personal touch. They are just lovely people, and the room is wonderful, the bed AMAZING, exceptionally clean, and the breakfast was great - and to sit and eat it with such a view is soulful pampering. It was the highlight of our memorable honeymoon.

Majbrit Villadsen


9/08/2019

We stayed at Tigh-Na-Mara end of August. The location is perfect to visit all the north attractions of the island. The room was just perfect : really comfortable, stunning view, clean,... And what about the host ! Patricia and Gordon are wonderful welcoming people, always giving nice little attention making your stay at their place perfect. We enjoyed Skye, definitely for what the island has to offer. But Patricia and Gordon also contribued a lot to make our stay memorable. We'll definitely come again. Thanks again !!

Gianfranco Bazzanella


9/03/2019

We spent 3 nights at Tigh-Na-Mara where we were made very welcome by our hosts Gordon and Patricia. The accommodation was excellent, a large comfy bed in a warm spacious room, tastefully furnished with en-suite bathroom. Tea and coffee making facilities were provided and a nice touch was the delicious chocolate brownie cake for our arrival. (We were also able to hang up any wet outdoor clothes to dry, a necessity on Skye!!) Our continental breakfast was more than sufficient:- tea/coffee, orange juice, yoghurt, cereal, toast and fresh fruit with plenty left over to make a packed lunch. We would highly recommend Tigh-Na-Mara without hesitation. Paula and Doug Young (and Bruce the Bear!)

Paula Young


8/29/2019

The Tigh Na Mara bnb is in the beautiful town of Staffin, with a gorgeous view of northern Skye coastlines. Gordon and Patricia were generous, thoughtful and ideal hosts - when we arrived after 8pm, exhausted after a long drive, they heated up pizza for us rather than direct us to Portree which would be the nearest town with available restaurants. The room is spacious with fantastic views of the bay, and the bnb is close to plenty of fantastic hikes and glorious cliffs and coastline including the Quiraing. I will definitely come back!

Emily F


8/11/2019

Dear Patricia, dear Gordon, we had such a nice time in your wonderful house. You were so friendly and helpful.The room was perfect ,especially the marvelous view. Thankyou very much. Cornelia and Volkmar

Cornelia Dr. von Obstfelder


6/18/2019

We had a great time in Staffin. Our hosts were really friendly and helpfull. The room was very comfortable and clean, with a great view on de bay. Thanks for the hospitality, we will totally recommend you guys!

Ruud van Rijsdam


6/02/2019

We had a great time in Staffin. Our hosts were really friendly and helpfull. The room was very comfortable and clean, with a great view on de bay. Thanks for the hospitality, we will totally recommend you guys!

Ruud van Rijsdam


6/02/2019

Great Location in the Northeast of the Isle of Skye, very close the the stunning Quiraing, with a great view to the sea. Patricia and Gordon are wonderful hosts, very helpful and generously. The room is spacious, very clean, the bed is very comfortable. Great breakfast in the room with a view to the sea and the Quiraing. I can recommend 100 %!

Max


6/01/2019
P.P.S. Where is Staffin?
Tigh-Na-Mara B&B Staffin is located 17 miles north of Portree, and around 2.5-3 hours drive from Fort William and similar from Inverness. We are in walking distance of Staffin beach where you can see the world famous dinosaur footprints, or have a meal at one of the two restaurants/cafes in Staffin (booking recommended) – see our About Staffin page.
Contact Tigh-Na-Mara B&B Staffin
Telephone: +44 (0)1470 562403
Email: [email protected]
Staffin is 2.5-3.0 hours drive from Fort William and Inverness. Tigh-Na-Mara B&B Staffin is located within 15 minutes walk of Staffin Beach and harbour, the dinosaur footprints and the local shop (Staffin Stores).
There are two restaurants within walking distance of Tigh-Na-Mara, the Columba 1400 Centre (01470 611407) and the Kilmartin River Cafe (01470 562322). Please check opening times and availability if intending to dine there as times vary and they can be busy.
Tigh-Na-Mara B&B, Staffin is ideally situated to explore the Trotternish region of Skye. Kilt Rock, the Quiraing, the Old Man of Storr, the Fairy Glen, dinosaur footprints and Fossil Museum are all a short drive away. Spectactular walks for all abilities are also within easy reach. Uig and the ferry to the Outer Hebrides is 9 miles away.
For nature lovers there are sea eagles, golden eagles and numerous sea birds to spot. Whales, dolphins, seals and otters are regularly seen. Portree is 17 miles away with craft shops, pubs, restaurants and entertainment at the Aros Centre. Skye has restaurants to suit all tastes from fish and chips at Portree harbour to fine dining at the world renowned Three Chimneys. There are a number of activity centres and mountain guides for the more adventurous.
For the fisherman/woman there is sea, river and loch angling in spectacular surroundings. For the art lover there are numerous galleries and craft shops. The keen photographer is spoiled for choice, whether looking for amazing landscapes or opportunities to capture the local wildlife, sunsets or even if lucky a stunning aurora. For the keen climber and hill-walker the Cuillin, a 40min. drive away, is unbeatable. Staffin is at the foot of the Trotternish ridge with easy access to the amazing pinnacles and chasms of the Quiraing. A short drive takes you to the iconic Old Man of Storr. For the geologist there are rock structures to study, the Flodigarry landslip (one of the largest in Europe), fossils to find and the now famous dinosaur footprints to marvel at. The archaeologist will spot an iron age midden from the room window. Within walking distance there are hut circles and chambered cairns. Further afield there are Souterrains, Brochs and castle ruins to explore. At Lealt a scenic platform gives views of the waterfall with walks that take you to the remains of the diatomite processing buildings, railway and the source of the diatomite at Loch Cuithir. If you are familiar with the Skye Boat song you may wish to visit Flora MacDonald's memorial, cottage and other sites associated with Bonnie Prince Charlie.